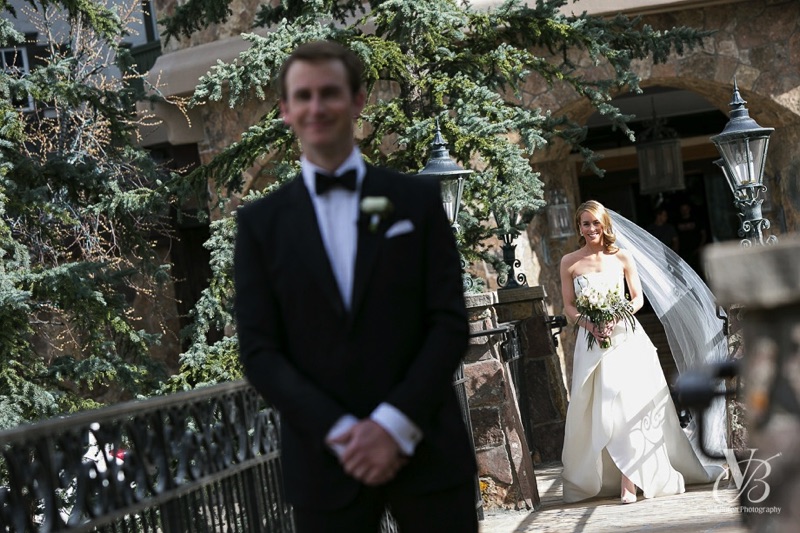 Photo credit: Van Buren Photography
Whether or not to do a first look is sometimes a tough decision. Most of our clients do it, but as a planner I support either choice because with a well planned out timeline, and a good photographer, everything's going to be great either way! In my professional opinion here are the pros and cons of the first look photo….
PROS:
YOU'LL END UP WITH MORE & BETTER PHOTOS
All our weddings are in Colorado Mountain towns, and most of our couples want mountain top wedding photos! That's the point of having a wedding in a beautiful location like Vail or Aspen! Without a first look, those photos would be really hard to get unless there were a couple of hours between the end of the ceremony and start of the reception.
EVERYONE WILL GET TO ENJOY COCKTAIL HOUR
If you're planning on having cocktail hour right after the ceremony, you will most likely miss it if you don't do the first look because you'll be busy with family and wedding party photos, followed by photos with your new spouse. With a first look you will be able to get most if not all of your formal photos done before the ceremony.
QUALITY TIME WITH YOUR FIANCE
I've never been a bride, but the first look seems fun! You'll have so much more time for photos with your fiance, and afterwards you can relax together before the ceremony. Things can get hectic after the ceremony, and everyone is going to want to see you. Besides the first dance, you might not have any alone time with your new spouse during the wedding.
CONS:
FOMO ON THE TRADITION
Usually the groom has a stronger opinion about the first look photo than the bride. The tradition of waiting to see the bride until she walks down the aisle if really special!
LESS TIME TO GET READY
With a first look you'll need to be ready much sooner than if you weren't doing one.