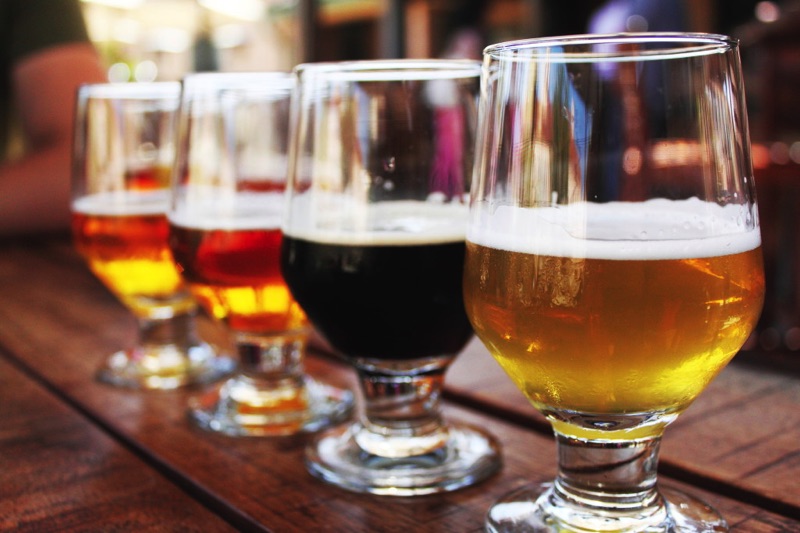 Don't get me wrong champagne is always my go to drink for any "type" of celebration, if it's facing the Monday of all Monday's, or a birthday dinner with your best friends, but it's time for a change and it's time to incorporate your favorite beers!
How to incorporate your soon to be husbands Craft Beer.
      Most soon to be husbands don't see the difference of egg shell and off white, where to us its clear as black and white. So when it comes to serving drinks/wine at your reception do something that will surprise your future husband, find his favorite local beer and pair it with his favorite appetizer, tell him you decided on signature cocktails instead and the watch his look on his face when he see's what you have done for him.
Introducing your guests to our local breweries.
      One of the biggest trends we are seeing taking over the food and beverage scene in the vail valley is the the craft beer and cocktail scene. Breweries all over Eagle County are taking over your usual "wine bar" spot and trading it in for an IPA or finishing your dinner with a chocolate milk stout. So why not take advantage of these amazing breweries and incorporate them into the most important day of both your life's. The second you say "I do" is the second your guests are thinking, cocktail hour, drinks and food! So why not expose them to your favorite beer and be able to pair it accordingly to your favorite foods you will be serving. One of the things you can do is sit down with your banquet captain or caterer and tell them the type of beer/creative cocktail you want to serve and ask them their advice on pairing. Another great idea is going to visit your local bartender and ask them what they pair their favorite local craft beers with, I mean let's be honest they know the beer best.
Utilizing the best of the best!
      Most breweries, for example Vail Brewing Company and Crazy Mountain offer a gluten free beer for your friends that are either celiac or are just jumping on the gluten free band wagon. Having an option for your guests will go much further than you think. As a bride you are constantly going to be worrying about accommodating your guests especially when it comes to allergies so it does hurt to ask what their gluten free option is. Growlers are great ideas to hold your signature beer on your table as well as purchasing kegs/mini kegs for the bartenders. The good thing about having a wedding in a small town like Vail, most of the venues carry local breweries to show their support for local companies so it's not as impossible as you think. With that being said, let's look forward to a great 2016 wedding season and let's see some more of these amazing craft beer trends to incorporate with your wedding! And don't forget if your looking for a different kind of rehearsal dinner, why not hold it at a local brewery most with live music and lawn games!