Maddy and Justin are Vail locals. I was at their Christmas party when Justin proposed, so I was excited, but not super surprised when they hired me to be their planner!
Justin started the day with a 10K run! Knowing Justin, I wouldn't expect anything less! His t-shirt is hilarious, and it made me lol.
Maddy and her mom, Deb, played a big role in the wedding design, and they took a break from getting ready to come to the venue to help us set up for a little bit. I had a full team, so they totally didn't have to, but it was cool that they were so excited and wanted to be involved! They did a great job with the wedding design, and everything was beautiful!
The guys headed to the ceremony
The ceremony was supposed to be on The Wedding Island at The Vail Clubhouse, but it wouldn't stop raining. I always have a solid rain backup plan, but this was the first time I've ever had to use it. We usually just wait 10-20 minutes and then the rain passes. I waited until the last possible minute to make the call. As a wedding planner I felt terrible because I knew how much they wanted to get married outside. As It turned out the rain backup plan B could have been anyone's ceremony plan A! It looked really pretty! The ceremony was wonderful! Maddy and Justin's officiant was a friend, and he was so good that I would hire him to do other weddings if he lived in Vail! They also wrote their own vows, and they were so sweet!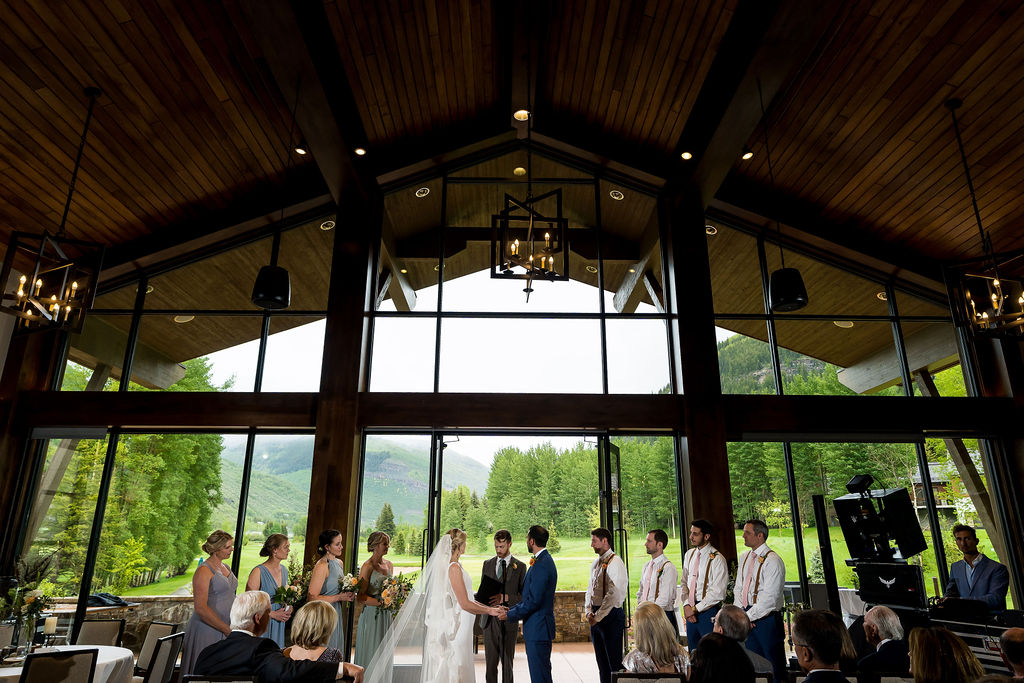 The rain eventually stopped, so they went outside to finish photos which turned out amazing!
The reception was a soiree style, aka a "Southern Wedding," as my Texas brides call them. It was a mix and mingle type of feel with food, dancing, and lawn games all night long! It was catered by Ekahi, a popular Hawaiian restaurant in The Vail Valley. I've never had a wedding catered by them before, and the food was delicious! soiree style weddings are my favorite because I think they're more fun, and if I were getting married that's what I'd have!
There were speeches. lol Maddy's face……. Followed by the first dance, father daughter dance, and mother son dance.
Dj Jeff kept the dance floor full for the rest of the night!
Off to the after party in Vail Village. The Turtle bus is always a fun time!
KIND WORDS FROM THE BRIDE
IT COULD HAVE BEEN A DISASTER (I like the title she gave this review)
Stephanie was our Month-of Coordinator but was a vital part our planning well before that! She was super responsive and helped make sure we didn't forget a single detail! We had very uncooperative weather on the day of our outdoor wedding and I can't imagine having had to have made all those last minute adjustments without Stephanie and her team there!
VENUE: Vail Clubhouse CATERING: Ekahi Grill DJ: Vail Djs PLANNING: Party Girl Events FLORALS: A Secret Garden PHOTOGRAPHY: Bergreen Photography HAIR & MAKEUP: Sweet Cheeks TRANSPORTATION: The Turtle Bus