Steven and Kari are so romantic, they have a company called Stardust and Honey where they sell date night kits, and they wrote a book together called "Becoming Beloveds!" They refer to each other as their beloved! The videographers filmed the couple telling their love story after the proposal, but it's not ready to post yet, so check back later.
Our proposals always happen around an activity. There needs to be a reason for our client's partner to go to the proposal spot. Steven and Kari love taking photos, but usually Steven brings his tri pod, and has to be his own photographer, so their activity was a photo shoot with Toni Axelrod! Normally I would think this would be suspicious, but it was totally normal for this couple! Steven and Kari's first kiss was on top of Vail mountain, but going up the gondola wasn't an option due to covid, so Toni brought them to the place with the prettiest mountain view in town.
While they were enjoying their photo shoot, our team set up the proposal spot at The Arrabelle. They stayed at The Arrabelle because that's where they stayed during their first trip when they fell in love! This was one of my favorite setups because of the personal and sentimental details that we incorporated into it, and how romantic is was! Kari loves these specific pastel orchids, and I knew I wanted the backdrop to be a sign that said" I am my Beloved's and My Beloved is Mine." ( obviously)! Steven wanted rose petals and a rose petal heart. We added the red carpet and candles for more drama, and because we didn't have a "marry me" sign as the backdrop which I like to do, I decided to put that on the carpet, and I love how it popped! We got personalized champagne flutes for an extra personal touch, and because the couple didn't have a champagne preference, I ordered the prettiest bottle I could find for photos!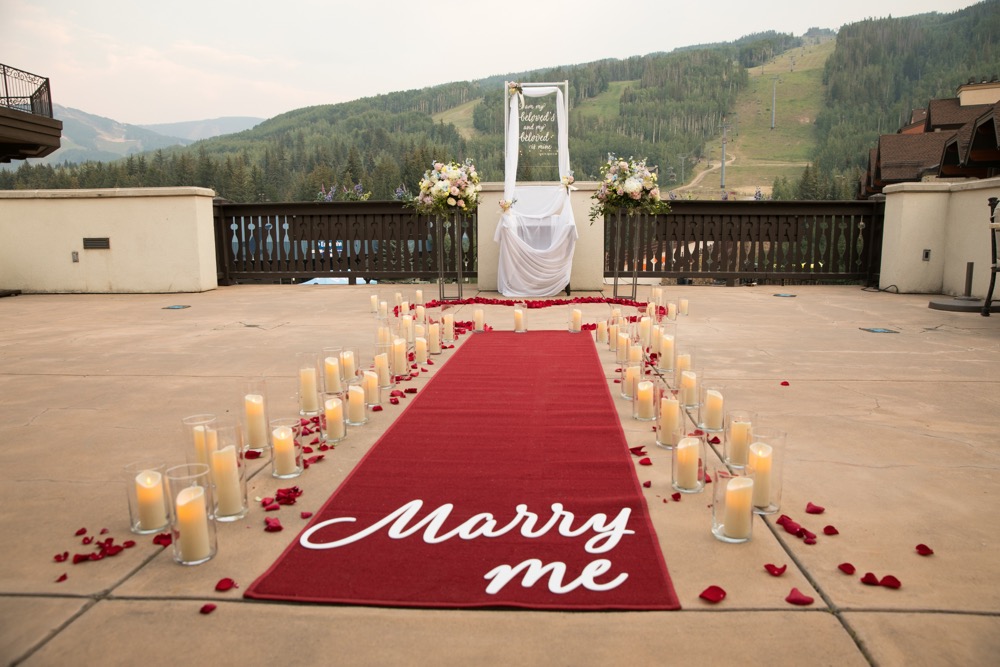 After The couple returned from the first half of their photo shoot, they changed their clothes, and met Toni in the lobby for their "second half of their photo shoot." Steven went to the bathroom where the videographer was waiting to mic him. Then Toni led them to the proposal spot! The Love Theme from Cinema Palidiso played, and they danced to it. They love that movie, and watched it on their first date! Then Steven proposed, and Kari said yes! Steven even brought a light up ring box. Impressive!
After the proposal they took some more photos while we decorated their hotel room.
Then they came up to their room ( early! omg) . I wasn't done decorating and had to hide on the patio! The photographers and videographers distracted them, and grabbed my purse and phone, so I could escape! It's unusual for the photographers and videographers to capture footage of the couple in the room, but it was really cool to see Kari's reaction, and now I think it should be standard! There was a heart lock on the door because heart locks are symbolic to the couple's relationship, and Steven made Kari a scrapbook, and gave it to her in the room. VENUE:
The Arrabelle at Vail Square
PLANNER:
Party Girl Events
PHOTOGRAPHY:
Toni Axelrod Studios
CINEMATOGRAPHY:
Gold Heart Weddings
FLORALS:
Eventique Productions
SIGNAGE:
Four 13 Designs