Marisa and Brendan live in England, but Beaver Creek/ Vail was the perfect destination for their wedding because Marisa's parents have a second home in Beaver Creek, and the couple has been going there to ski for years! Their wedding was unique and had so many personal touches.
HERE ARE THE HIGHLIGHTS
The Weekend started with a fabulous Rehearsal Dinner followed by Welcome Party at Beano's Cabin. The family and wedding party had a 5 course dinner, and then at 8:30pm the rest of the wedding guests arrived for drinks and desserts. Beano's Cabin is the couple's favorite restaurant in Beaver Creek.
The Desserts were so good!
Getting ready on the wedding day at Marisa's parent's place.
They had a Catholic ceremony at The Beaver Creek Chapel. Their home town priest flew in to officiate their wedding!
The reception was at Camp Hale. They had a travel theme which was cool because Marisa and Brendan actually do travel all the time! Instead of table numbers the tables were marked by their favorite places that they've been together. You can't tell by the picture, but on the back of each one was a description of why that place is so important to them. The luggage tag favors/ place cards were genius. One of the best favors I've ever seen.
Marisa surprised Brendan with a birthday cake.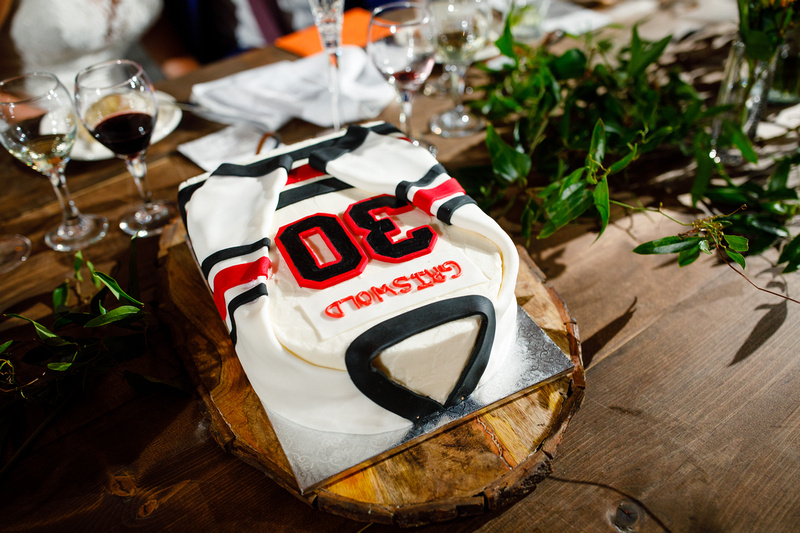 Rainbow photo!
KIND WORDS
Stephanie was our event planner and we were super blessed to have her! We had a destination wedding so I didn't get a face to face meeting with her until the week of! She kept us all in communication with details and was more than helpful in every way! I even called her the day of to make a shuttle change and her response was "No problem, I'll make that happen". Amazingly easy to work with and her attention to detail was very, VERY good! She passed out detailed cards daily, individualized for Bride, MOB, MOG, etc so everyone had a where and when timeline to follow each day. She (or Lisa) were at every event on time and to the bitter end! Always available for any questions from wedding party or guests, with a smile and confidence that everything was under control! Her professionalism was portrayed at every event the entire weekend in her attire, demeanor and thoughtfulness. If I could give Party Girl Events 10 stars I would. They were just that good! We had no issues the entire weekend that were not resolved and fixed by Stephanie (or Lisa) so that we (the wedding party) enjoyed our wedding! If you want everything perfect, this is the planner to use!
PLANNER Party Girl Events REHEARSAL DINNER VENUE Beano's Cabin CEREMONY VENUE: The Beaver Creek Chapel RECEPTION VENUE Camp Hale PHOTOGRAPHER Gillespie Photography FLORIST A Secret Garden HAIR & MAKEUP Wedlocks CAKE The Dessert Stand TRANSPORTATION Black Diamond