I recently interviewed one of my favorite go to hair stylists and makeup artists based out of Vail, Kacee Picot, owner of CKaceeGo,and asked her all the hair and makeup questions that everyone always asks. Kacee shared so much valuable information with me!….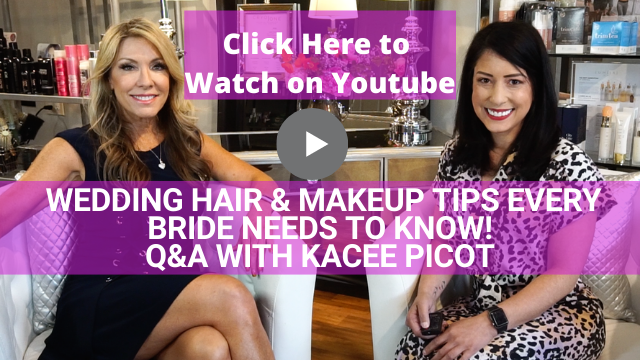 Here's a quick recap of Kacee's tips and advice…
There's a big difference between regular every day makeup, and professional wedding makeup! Trust me, you need wedding makeup!
Book your trial in advance, so you hair stylist and makeup artist has time to prepare. Before your hair and makeup trial, get rid of your facial hair if you need to!
Start prepping your skin 3 months before your wedding. You want it to be as flawless as possible for your wedding day. In Vail/Beaver Creek/Aspen it's really dry, so it's important to keep your skin extra hydrated!
When you order your veil, make sure it has a metal comb, not a plastic one. Skip the floral comb from the florist, and ask for loose flowers instead.
On the wedding day , wear a silk robe, show up with clean hair, and moisturized skin. I thought the silk robes were just cute for photos, but they actually help the hair stay nice!
Allocate more than enough time for hair and makeup in your wedding day timeline! Kacee schedules 45 min. for makeup and 1 hr for hair, but all pros are different. Hair and Makeup never finishes early, and often times unexpected things come up, ( like the bridesmaid's show up with wet hair, or with a handful of extensions they want to be put in) that take more time. Always be upfront with your hair stylist and makeup artist about the number of services you need, and what type of hair, etc your wedding party has, so there aren't any surprises.
Hire a wedding planner! Kacee won't work with anyone that doesn't.
Kacee Also offers other really cool services that would be perfect for your wedding! I'm so excited about them!
Air Brush Tanning
I'm excited about this! Kacee can do spray tans anywhere, so you can have a tanning party in your hotel suite ( 2 days before the wedding is recommended.) This is new technology! Before they were all orange and stinky. Now there are so many different shades to match any skin tone and they are fragrance free unless you want Kacee to add fragrance she can. She can also add shimmer or CBD if you want. The tans last 7-10 days!
Cryo One Selene
It's a treatment similar to cool sculpting, the treatment takes 45 minutes, and results happen immediately! If you're a bride and your dress is a little too tight, Kacee can help you! She offers buy 4 treatments get 1 free for weddings. For example, if the mother of the bride and 3 of her friends want to get the treatment, the bride's will be free!
I'm so thankful to Kacee Picot for taking the time to sit down with me, and answer all my questions, so I could share this valuable information with you all!
If you would like to book Kacee,click here to visit her website, and if you need some beautiful wedding hair and makeup inspiration click here to follow her on instagram.